Great wine might be the main reason to visit Franschhoek in South Africa, but as we discovered, there's another delicacy hiding among the vineyards: the legendary Alfa Romeo GTV6 3.0 homologation special.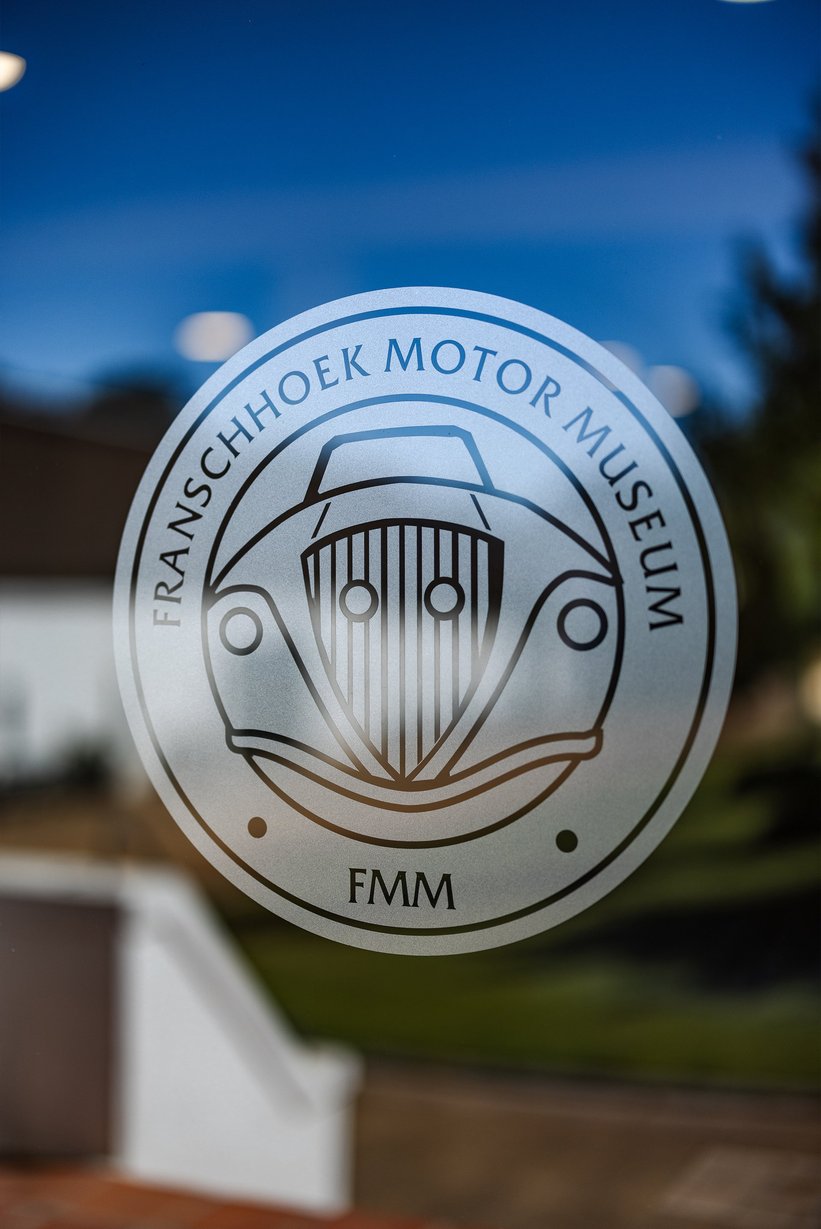 While the wildlife, incredible scenery, and biltong are what immediately springs to mind when you think of South Africa, the Rainbow Nation has also nurtured a vibrant petrol head community, as we discovered earlier in the year when we visited Deus to meet Aaron and his black Testarossa. Somewhat surprisingly, and as a result of its bustling car culture, over the years South Africa has birthed a few homologation specials that you won't find anywhere else. We've already had an encounter with the snarling Ford Capri Perana at Killarney Raceway, but when we heard of an ultra-rare homologation special of the Italian variety, nestled away in the lush wine region of Franschhoek (about two hours drive outside of Cape Town), we knew we had to track it down.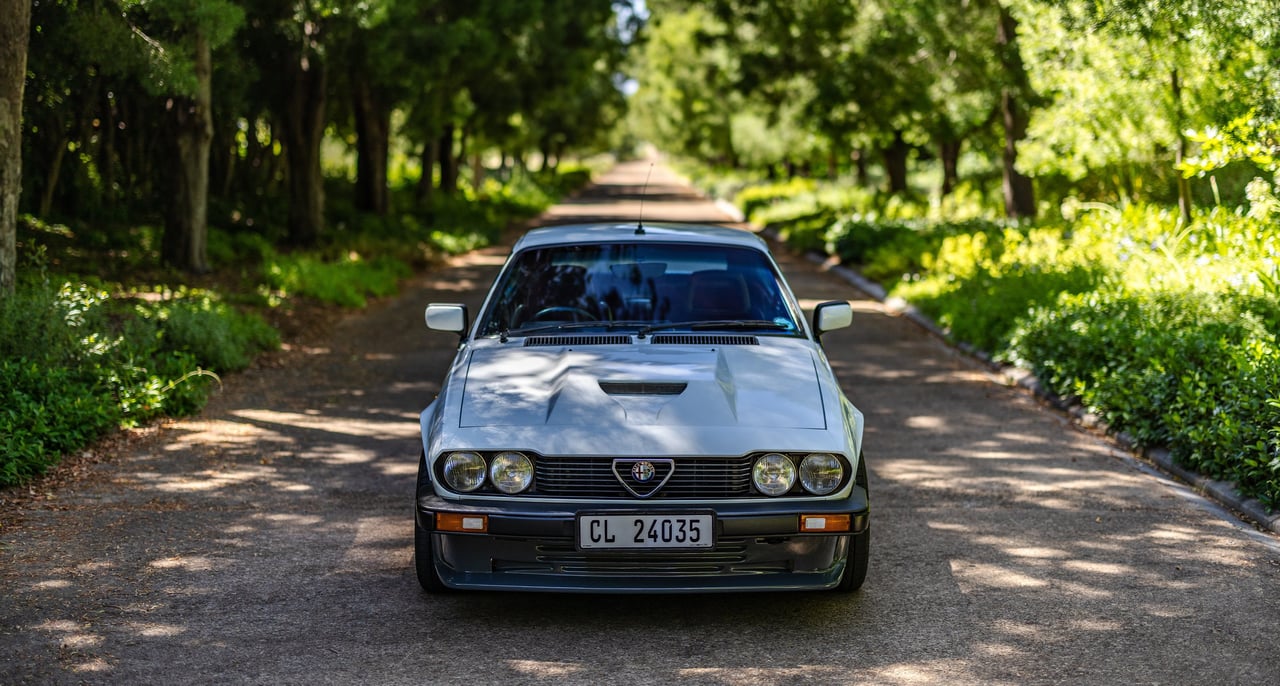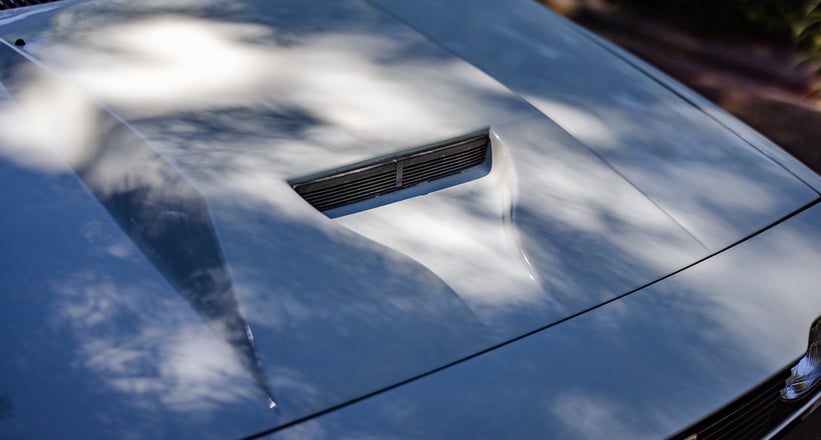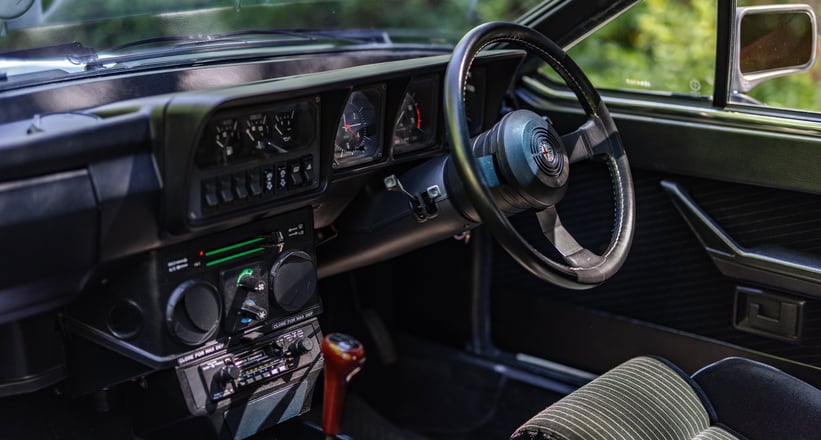 Without so much as a cloud in the sky, and the mercury beginning to boil at around 37 degrees Celsius, I roll up to Franschhoek Motor Museum's stately entrance. Having driven past half a dozen rough settlements built on the baking hot no man's land between Cape Town and Franschhoek, upon arrival, the Motor Museum's well-manicured grounds seem nothing short of an oasis. If we wanted to find the definitive example of the aforementioned homologation special, it seems we've come to the right place. In fact, if you find yourself near Franschhoek for whatever reason, I highly recommend paying the Museum a visit, as it boasts one of the most incredible car collections anywhere in the Southern Hemisphere.
After pulling into the Museum's tree-lined carpark, I'm hit with a wall of heat as I step out of my trusty Golf. Right on time, Lorenzo, the man in charge of Franschhoek Motor Museum's many pristine classics, rolls around the corner in a dazzlingly white 1984 Alfetta GTV6 3.0. The car is simply stunning, partly because of its dictionary-definition immaculate condition, but also because it's doing a fantastic job of reflecting the sun's relentless glare into my eyeballs. Should've brought my sunglasses.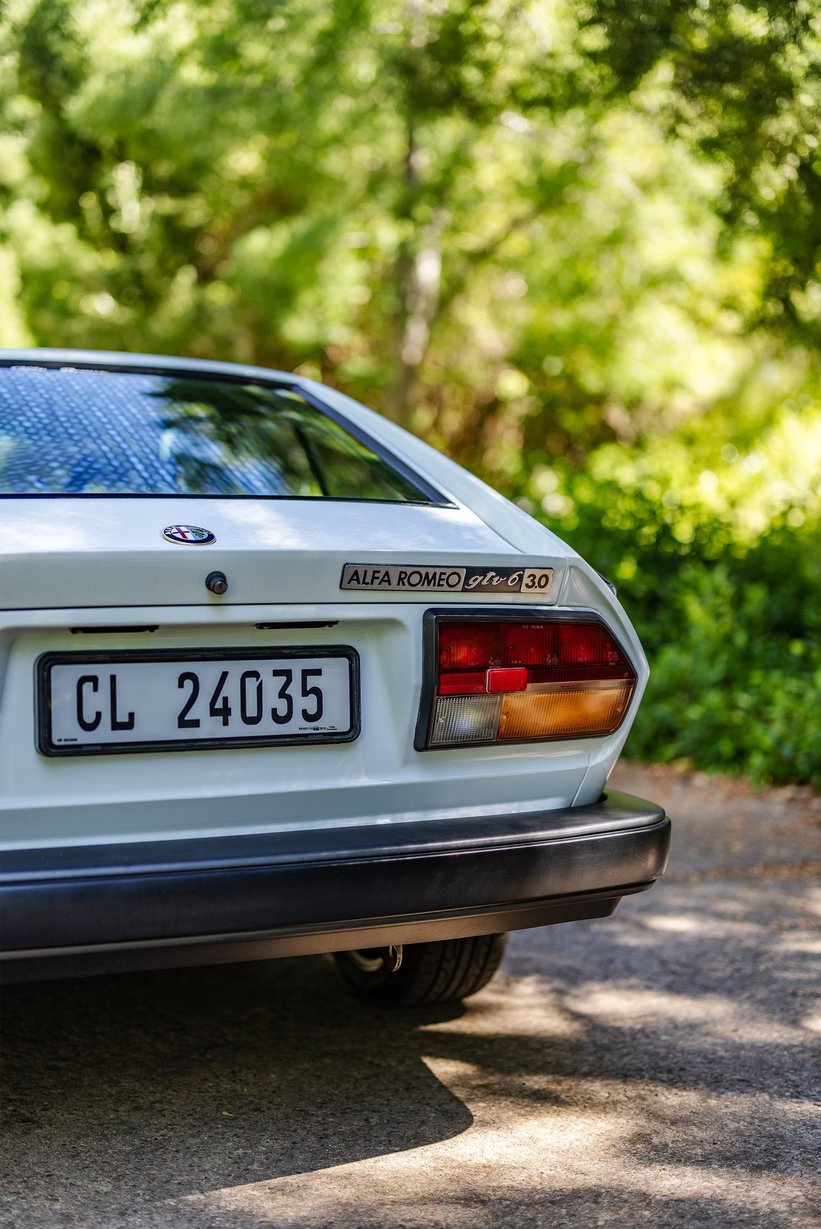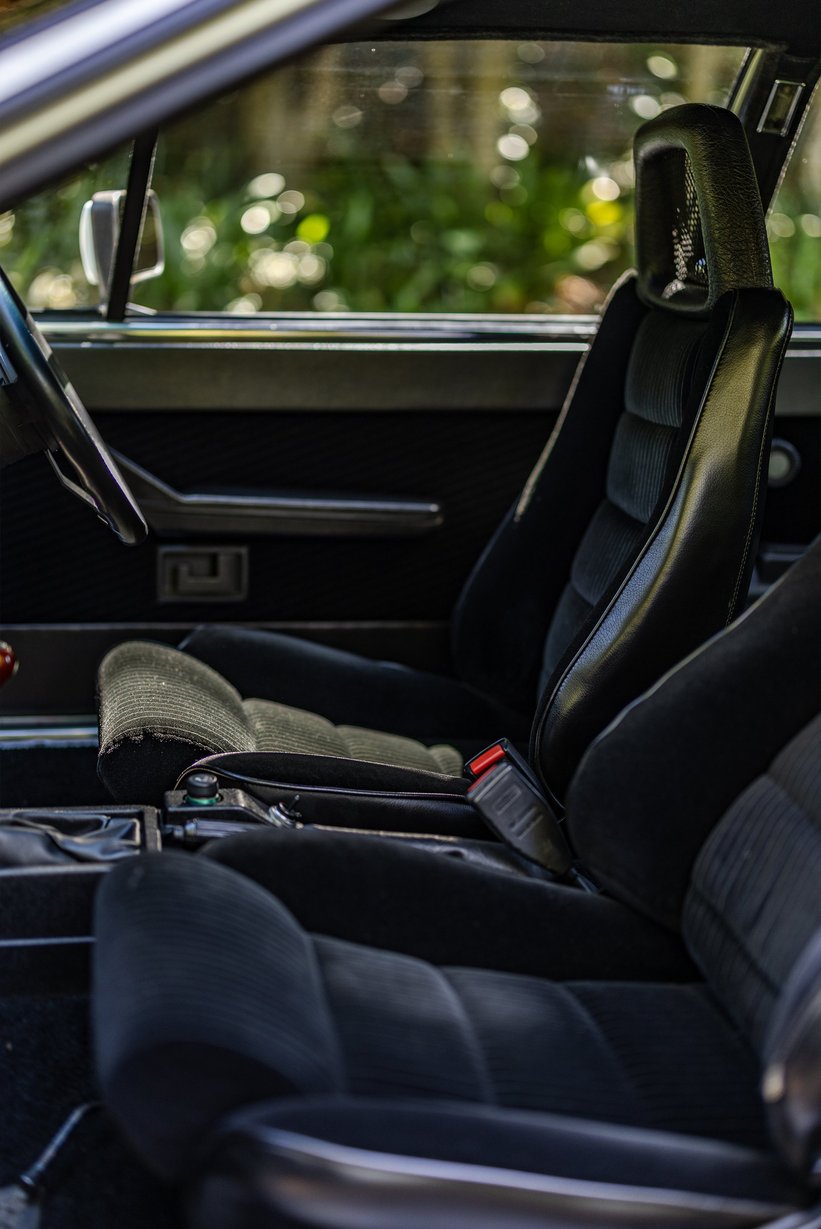 Keen to take cover in the Alfa's shaded cabin, I suggest we take a brief spin to one of Franschhoek Motor Museum's many wallpaper-worthy vistas. It's hard to believe this car is almost 40 years old; everything from the stickers on the radio, to the pinstriped fabric that look practically brand new, while the low-slung seating position feels just right. The Alfa chortles into life and the Busso-designed V6 settles into a charismatic hum as we cruise past acres of preened flowerbeds, while Lorenzo kindly fills me in on the GTV6 3.0's history.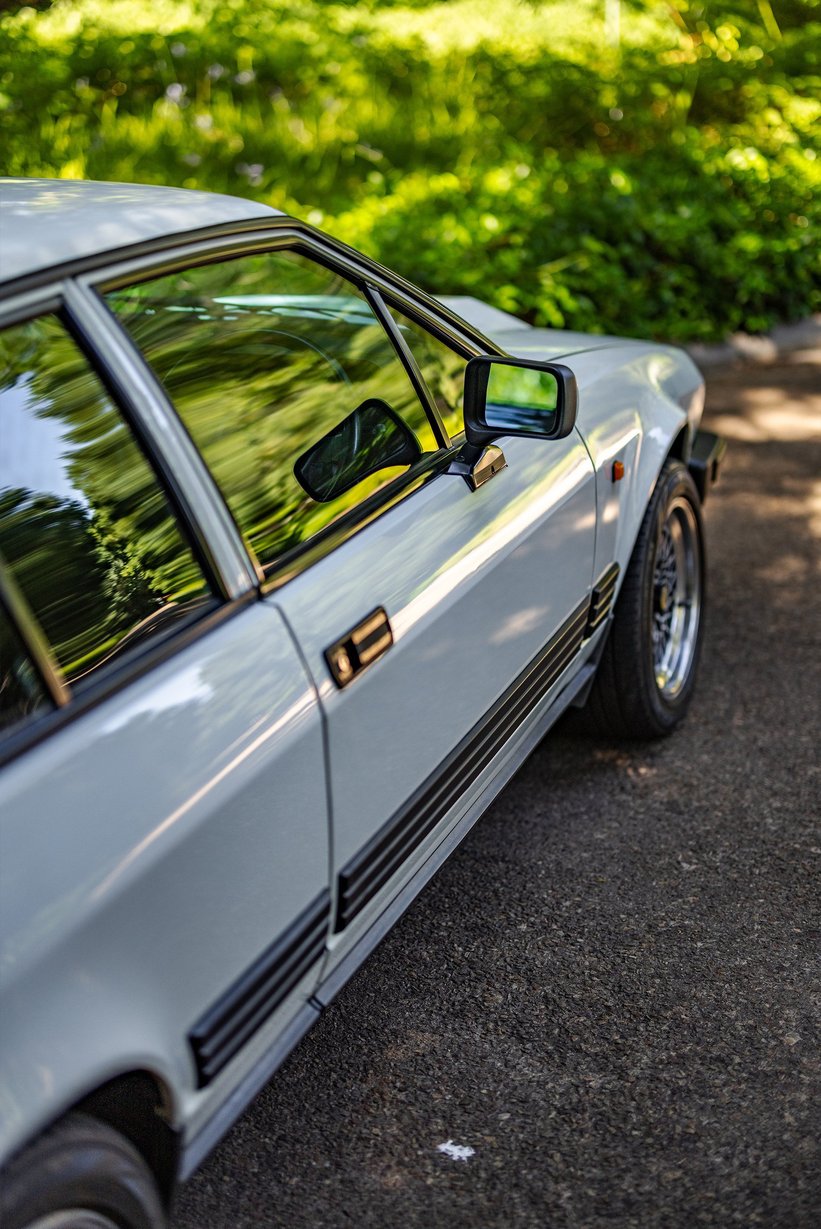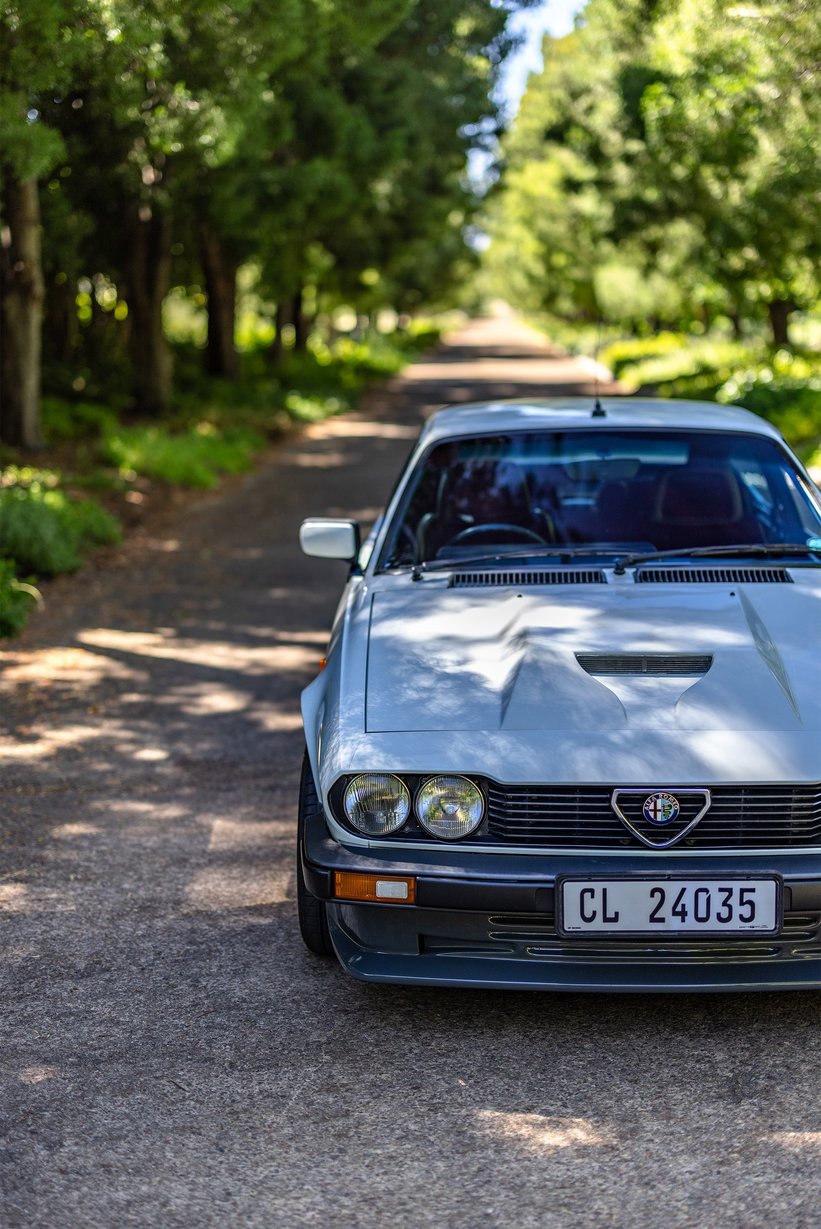 Developed and homologated in the mid-1980s to take on the BMW 535i in the then-thriving local Touring Car Championship, the GTV6 3.0 was born primarily because Sampie Bosman — Alfa's de-facto motorsport manager at the time — was tired of going to war with higher output rivals equipped with only a modest 2.5-litre V6. Serendipitously, Roger McCleery — Alfa's PR Manager — had just heard of a batch of special cranks, pistons, and cylinder sleeves that had become available at Autodelta in Italy, which would provide the V6 with a bore of 93mm and a stroke of 72mm for a swept volume of 2,934cc.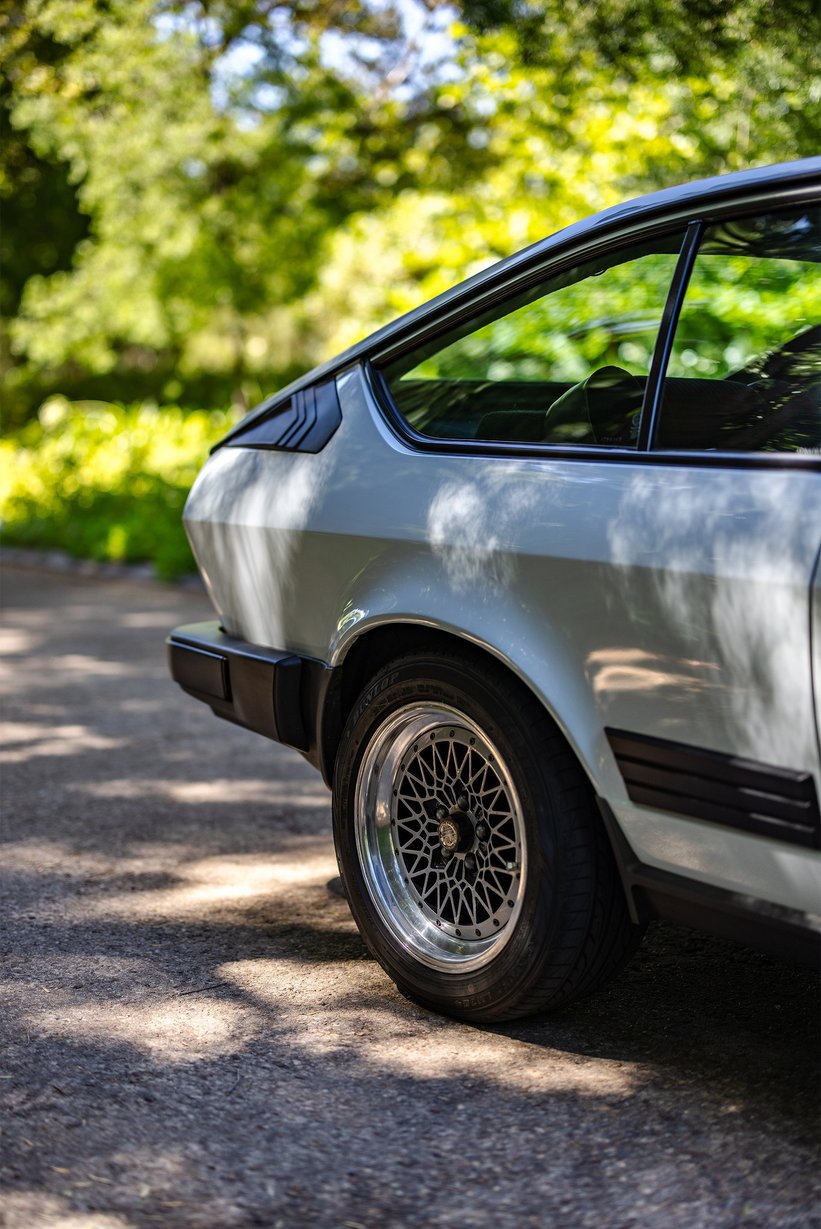 Soon, a prototype 3.0 litre GTV was cobbled together, but despite also fitting larger valves and tubular exhaust manifolds, power and torque still weren't up to Bosman's standards, mainly because the fuel injection system wasn't built for the larger V6. Clearly Alfa's Quadrifoglio was working its magic, because as luck would have it, Alfa Romeo South Africa had a bunch of Dellorto carburettors that were causing issues on on the imported Alfa Six sedan due to poor fuel quality. They would, however, work perfectly on the 3.0 GTV6, which would be running on race fuel: problem solved! The end result was a lovely V6 producing a healthy 171bhp and 222Nm.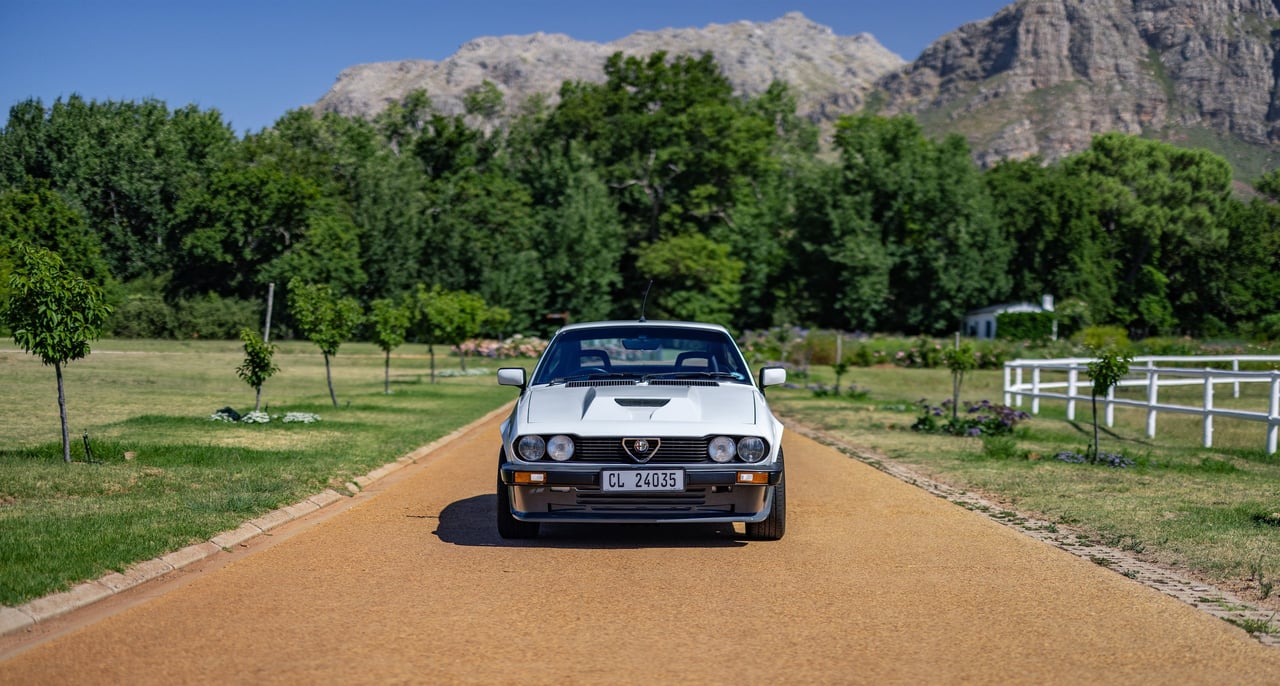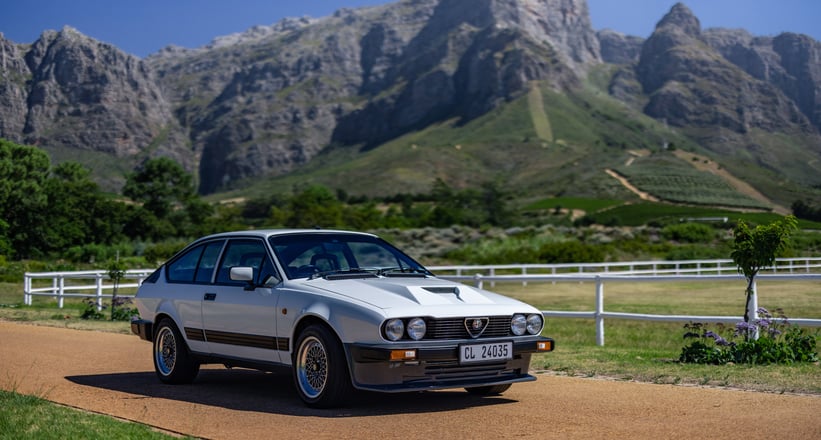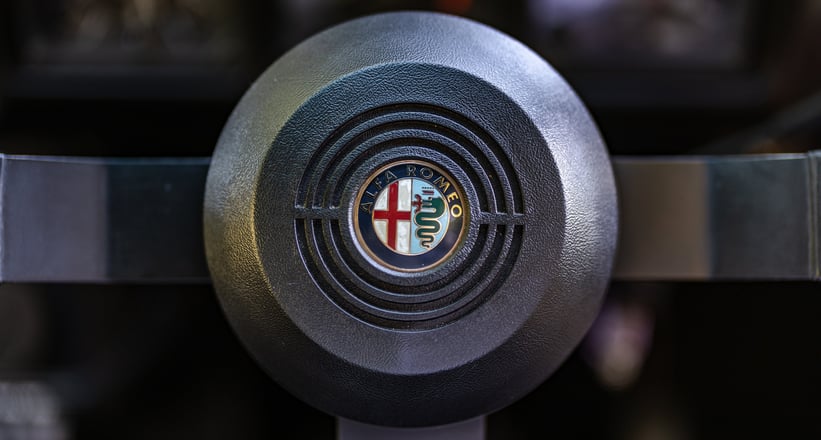 In order to build the homologation specials, the 2.5-litre V6s arrived in crates at Auto Unique — Bosman's business in Booysens — and left as the heartier 3.0 units, complete with enlarged carbs, branch manifolds, and a locally manufactured flywheel. In total, only around 250 of the 2.5-litre V6s were converted. All was going smoothly until it came to the small matter of installing the engines, when it was discovered that the taller intake and large capacity air filtration system meant the bonnet wouldn't shut. Bosman enlisted the help of the company who had already crafted the GTV6 3.0's deeper front splitter to cope with understeer. Their solution was a fibreglass bonnet with an even bigger power bulge than the standard V6, equipped as you see here with the NACA duct that would become the GTV6 3.0's trademark.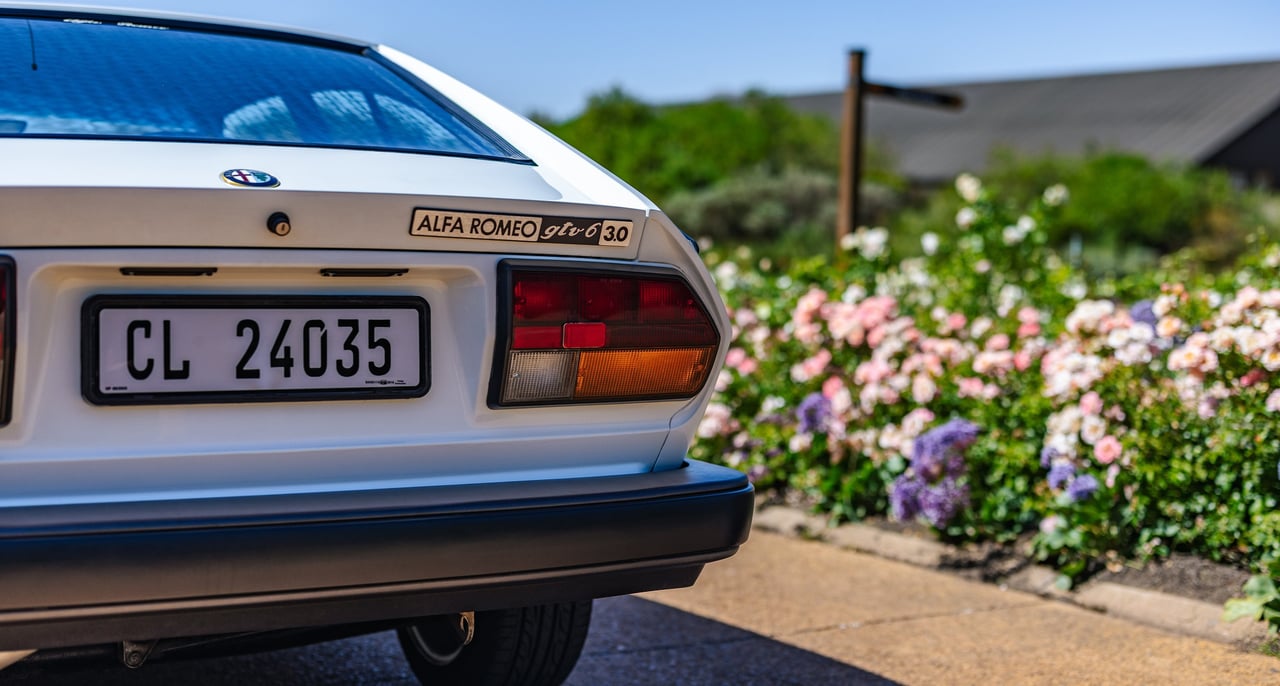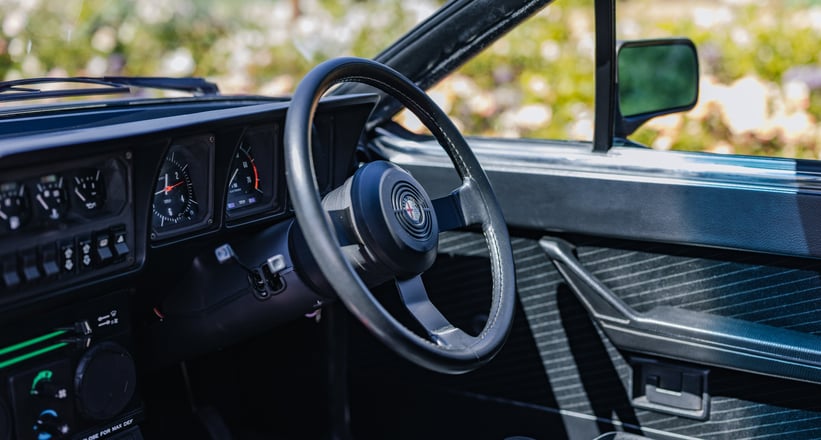 Walking around the car, you can't deny how good the GTV6 3.0's stance looks from the front 3/4 view. There is a small catch, though. Upon closer inspection, you'll find that the NACA duct is a fake — well, it is on the production models at least. I almost keeled over from shock when I squinted at the plastic blanking plate, discovering it was entirely sealed.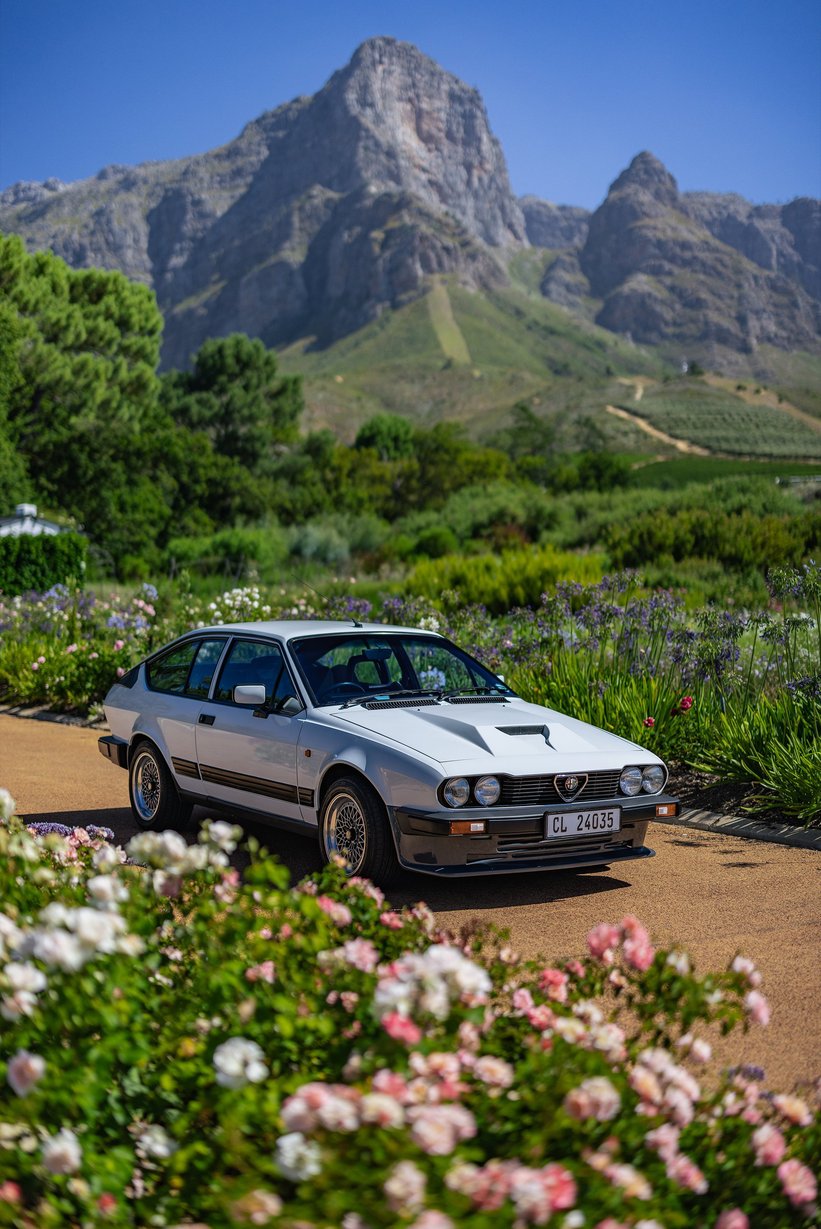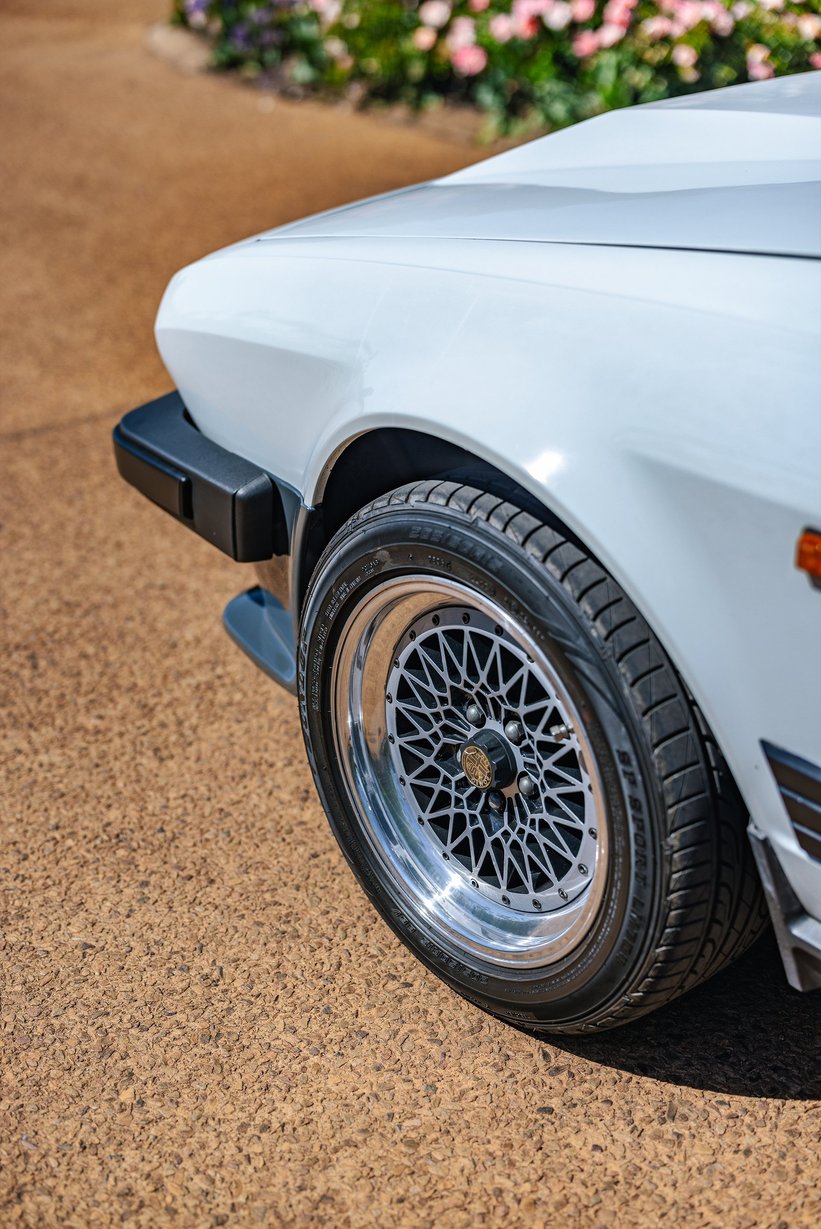 Somehow, it's both the least and most Alfa Romeo thing about this car, but I feel we can allow it considering the GTV6 3.0's undeniable motorsport pedigree. With a 8.36 second 0-60mph time and a top speed of 152mph, the GTV6 3.0 won 77% of the races it entered. This road car's stunning 15 inch Compomotive rims, shod in their 205/50 tyres, also more than makes up for any fake vents. However, all that rubber apparently resulted in another quirk of the GTV6 3.0: overall gearing that contributes to absolutely appalling fuel economy.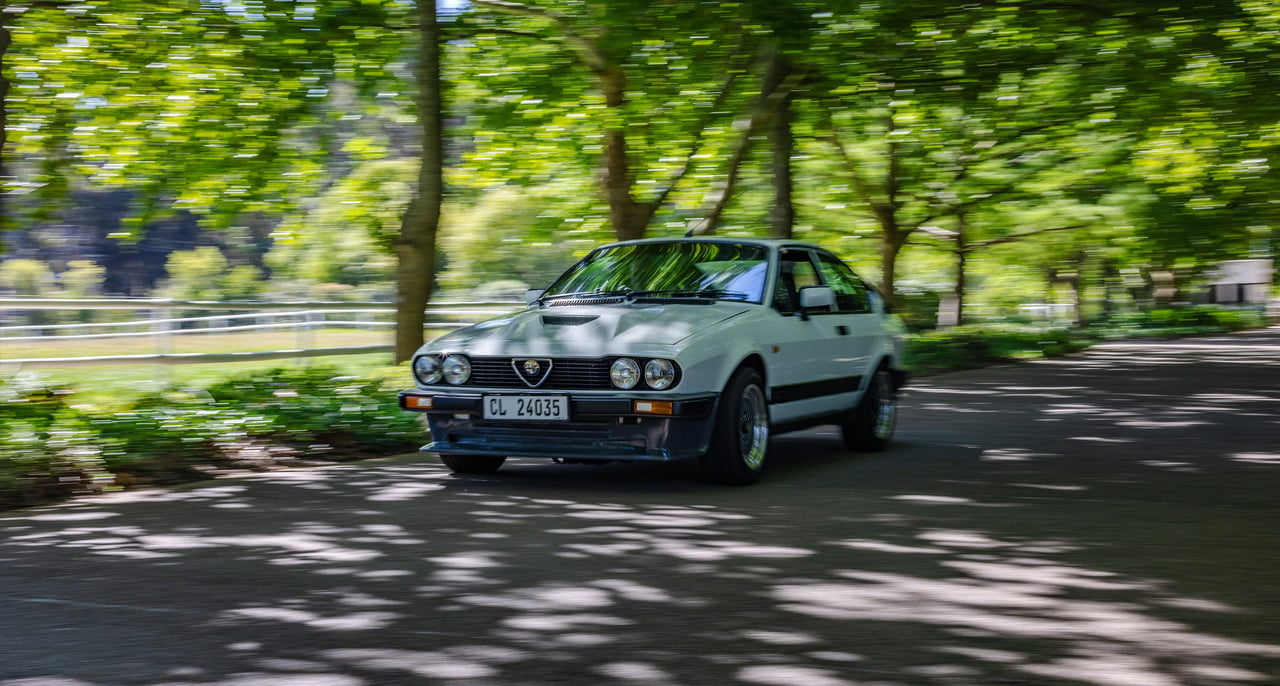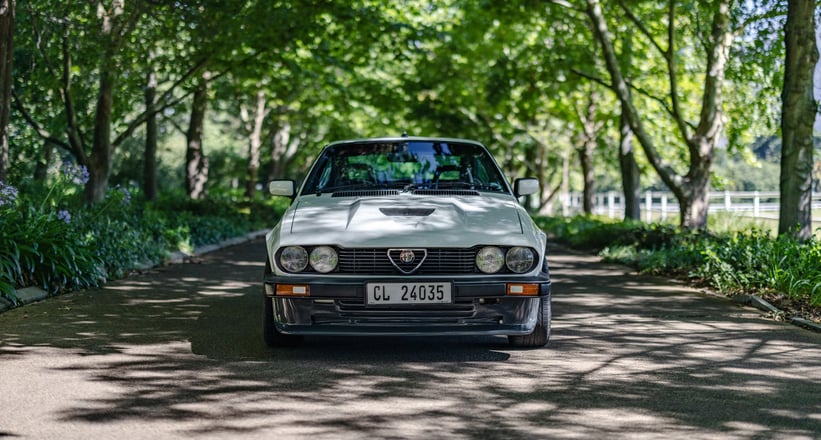 This example, which first belonged to South Africa's multiple title-winning rally champion, Serge Damseaux, doesn't suffer such issues as it runs taller gears from an Alfa 75 and 16 inch rubber to give it longer legs, along with an uprated brake booster. While Lorenzo and I were unfortunately unable (and unwilling, given the car's pristine condition) to fully test this GTV6 3.0's sporting prowess on Franschhoek Motor Museum's picturesque roads, one can immediately sense the willingness of this legendary Alfa to carry speed.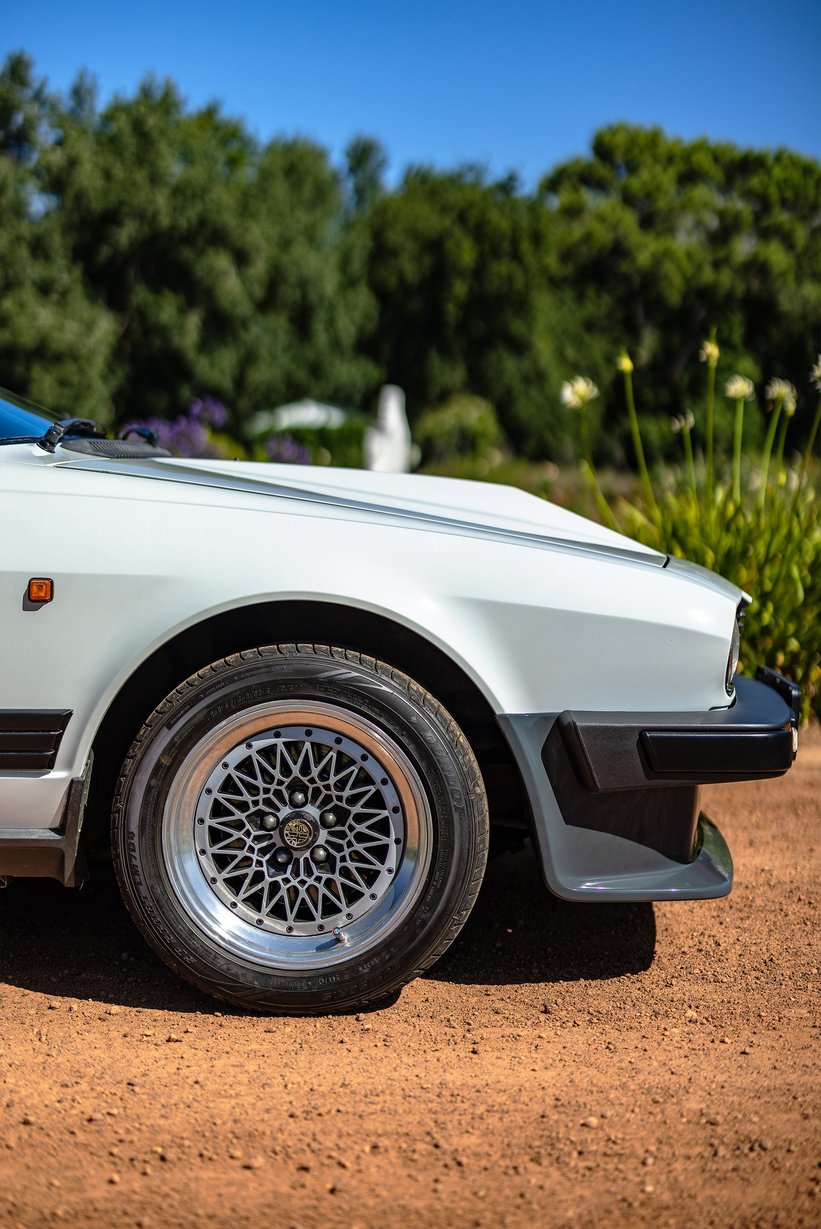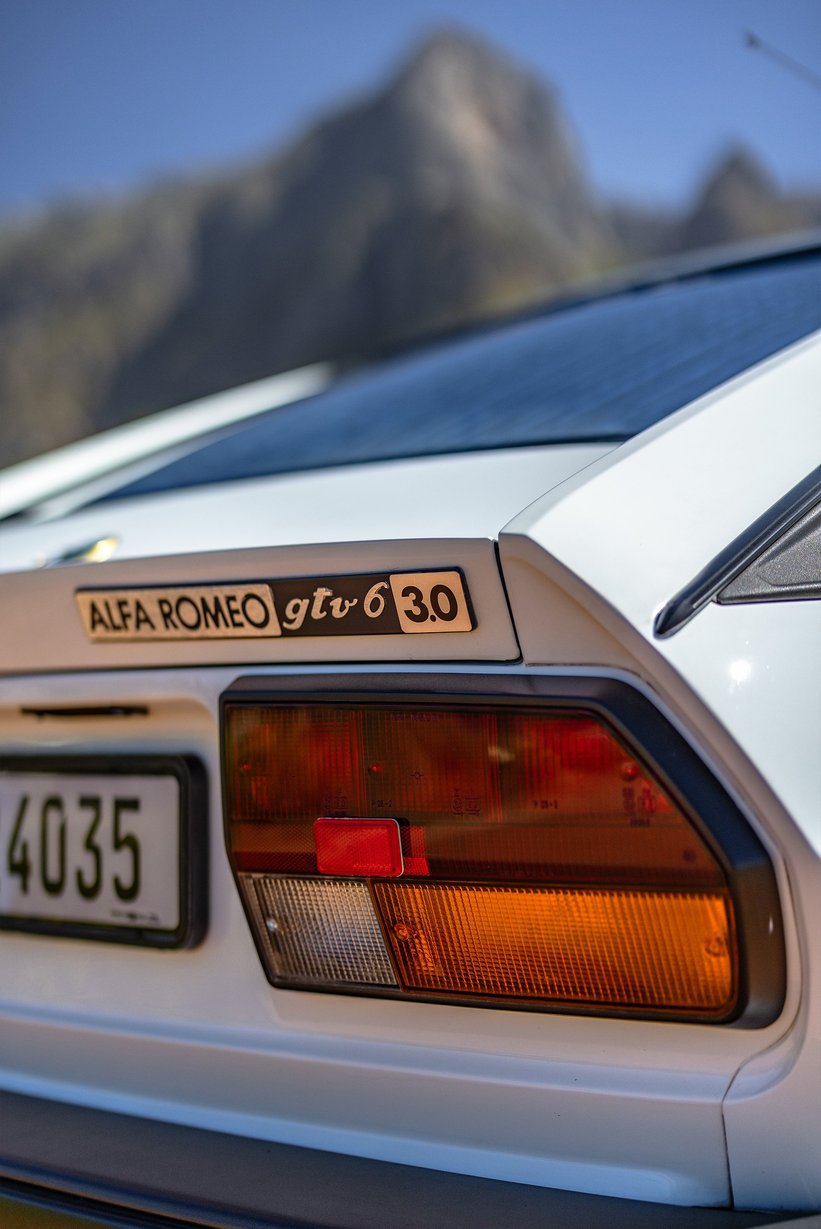 "Back in the day it felt absolutely phenomenal compared to what was on the road. The handling is absolutely great, the positioning is typical Alfa so you're almost lying down in the car, the response is also fantastic, and even though it's a 12-valve it has plenty of punch because of the carbs. There are only around 100 remaining today, and I feel the scarcity definitely adds to this car's appeal. Somehow it became this iconic masterpiece, it was just so different."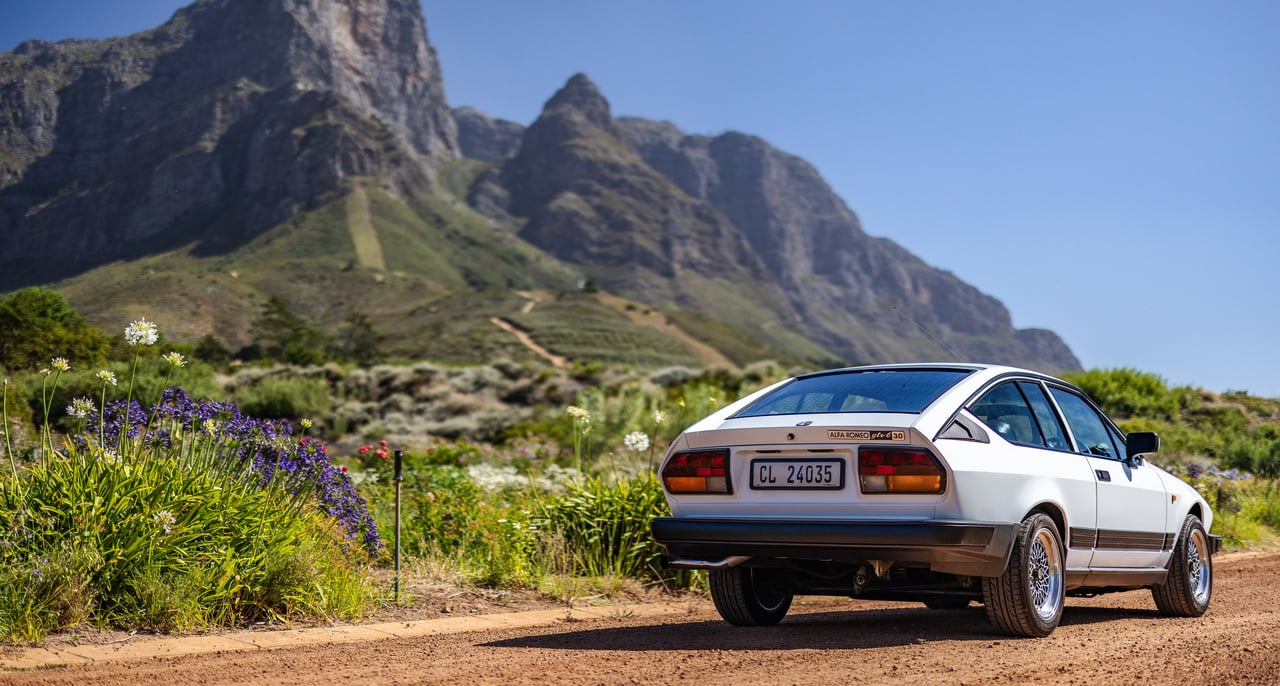 The GTV6 3.0 is truly a titan of South Africa's motorsport history, and I would have been more than happy just to gaze at this beauty from the other side of the red rope in one of the Motor Museum's temperature and humidity controlled barns, where this car usually calls home. Being able to sit in and enjoy it while soaking up the history from the car's caretaker was an unforgettable experience, and one we can't thank Franschhoek Motor Museum enough for.
Photos by Mikey Snelgar